How to claim FREE 1 month VIP TRIAL?
1. Log in to your Linky account or register here: https://linky.ph/register?redirect=pay/trial
2. Create Linky Page (if you haven't created it yet).
3. Click the "Free 1 Month VIP" button.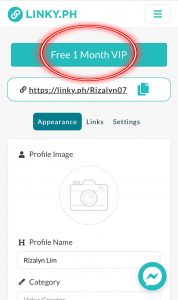 Note: We don't auto debit/charge after the Free Trial and you can renew or upgrade your plan anytime.
To learn more about Linky Plans kindly log in to your account and visit this link: